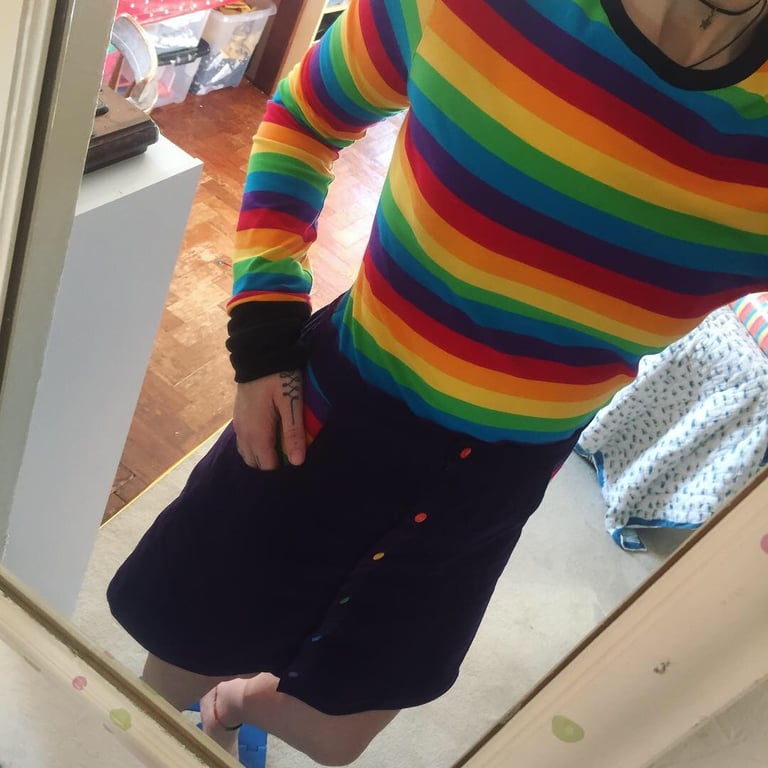 Purple Rainbow Pocket Button Up Skirt
Gorgeously soft, fine corduroy button up A-line skirt.
High waisted and with a bit of elastic in the back waistband this skirt is both comfortable and flattering.
Standard length is 20" from waistband to hem so the skirt should sit between mid-thigh/above the knee depending on how tall you are.
Detailed with rainbow buttons and coordinating rainbow stripe pocket.
Due to being handmade there may some very minor differences between items, such as more poppers/buttons on larger sizes.
Colours available are -
Apple Red 🍎
Foxy Orange 🦊
Sunshine Yellow ☀️
Cactus Green 🌵
Raindrop Blue 💧
Umbrella Purple ☂️
Tulip Pink 🌷
I also offer a made to measure option. This costs a little more to cover the time it takes me to draft a custom pattern. The measurements I would need are your waist, hips and from waist to where you'd like the hem. You can either leave a note at checkout or email your measurements after ordering.
Like TinyFibres on Facebook and follow on instagram for special offers, the occasional giveaway and to see new stuff first!
🌈